Can you keep yourself disinfected during this pandemic without using a hand sanitizer? Hand Sanitizers have been part and parcel of our lives since the very beginning of this global pandemic. For example, the Scotts hand sanitizer with its ultimate pH formula is pleasant on your hands. 
It contributes to preventing the spread of bacteria and viruses and reduces the risk of infection through hand sanitizer gel. In this article, we have discussed crucial points about hand sanitizers which you should know. Moreover, we have added about the places where you must keep hand sanitisers.
Hand sanitizers may kill germs, but they don't completely clean your hands
Soap and water are two of the most essential chemicals which effectively kill the germs from our hands. But they never clean our hands thoroughly.
On the other hand, alcohol-based hand sanitizers kill bacteria on the skin. As per the Center for Disorders and Prevention of Diseases (CDC), a hand sanitizer is less effective in fighting norovirus and Clostridium that cause diarrhea. However, researchers assume that the hand sanitizer kills the coronavirus.
Hand sanitizers may be more accessible, but they cannot eradicate all kinds of bacteria and viruses, even those with a significant alcohol level.
However, sanitizers cannot clean sufficiently in working or communal environments, where people handle equipment, food, or sports. In addition, if too little is applied or cleaned, hand sanitizer is inefficient.
Hand sanitizers may also not eliminate or inactivate hazardous compounds with which we may come into contact. One study revealed elevated levels of pesticides in their systems to persons who reported using hand sanitizers to wipe their hands.
Every hand sanitizer is not the same
The CDC recommends using a hand sanitizer with at least 60 percent alcohol to destroy most disease-causing germs. Anything less than this is ineffective for various kinds of bacteria.
You may find hand sanitizers that include benzalkonium chloride instead of alcohol when searching the shelves.
The Different types of Sanitizers and their use :
Many types of disinfectants are utilized in most commercial and industrial environments. Some of the most frequent types are as follows:
Alcohol-based sanitizers
These sanitizers are one of the most common types of sanitizers within the region. Ethyl alcohol and isopropyl alcohol are the most commonly used ones for cleanliness. Pure alcohol is not functioning very well here.
Alcohols destroy bacteria during protein denaturation. Alcohols expose and dissolve bacteria and eliminate the solid barrier for pathogens. In general, dry air and no towel or rinse are required. They can therefore be used fast and efficiently. You can prefer using Scotts hand sanitizer as it is one of the most effective ones as per the health experts across the world.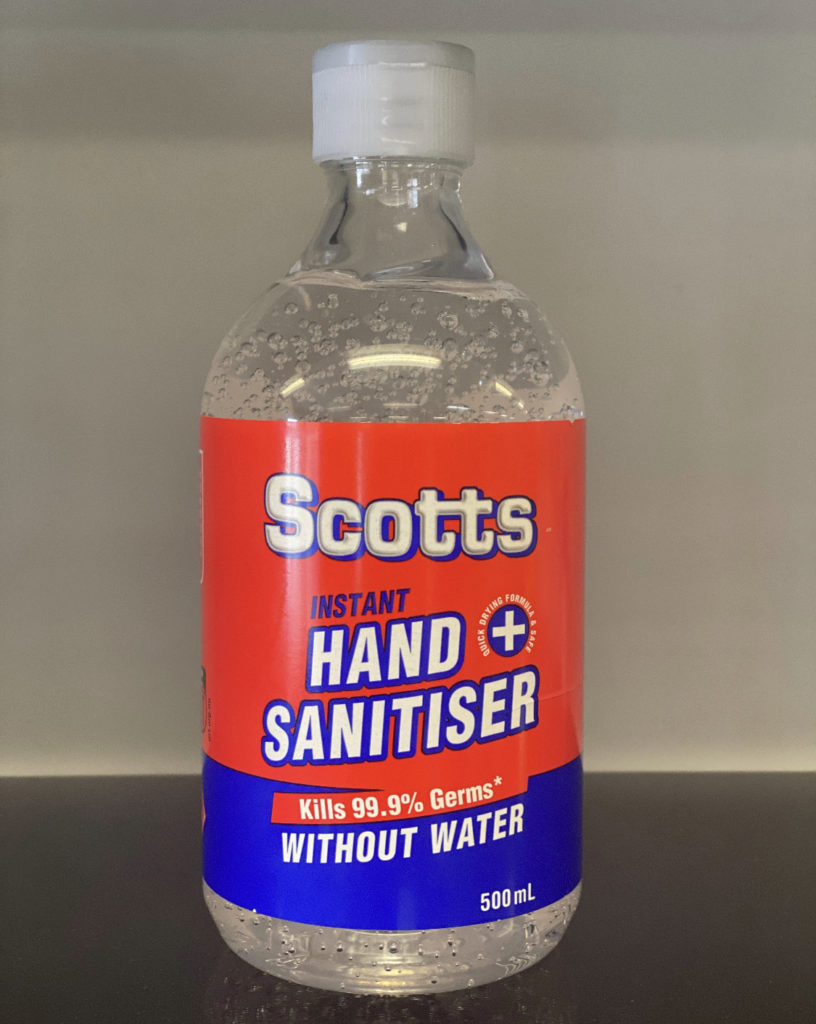 Hydrogen Peroxide based sanitizers:
These chemical products are one of the most widely preferred sanitizers out there. These cleaners are made of non-color chemicals. People clean a range of products using them. These include personal possessions, household articles, and floors.
These disinfectants are typically used in healthcare environments for cleaning and disinfection.
The bacteria, germs, and viruses can be controlled. You can frequently use hydrogen peroxide for cleaning equipment, cutting boards, mirrors, windows, and flooring for the baths.
Spray the liquid on the surface and wait until it is disinfected. Subsequently, leave the air surfaces dry or wipe clean.
The technique of sanitization matters
The hand sanitizer works best when it is used correctly. Apply the required amount on your hand palm (make sure it is sufficient for the entire surface of your hands). After that, scatter out the sanitary appliance and put your fingertips with proper care.
You must keep the hand sanitizer in your hands until the skin is dehydrated for 20 seconds.
The Tips on Placement and Usage of Hand Sanitisers
In a 2015 survey, 92% of Americans believe that washing their hands after using a public bathroom is vital, but just 66% do so. More than one-third of the interviewees confirmed sapping and water rinsing.
This makes the hand sanitizer in the toilet extremely crucial. If staffs are in a hurry and don't think of stopping and rinsing with soap and water, it provides a backup option in the vicinity of sinks.
The places where you should keep these hand sanitizers compulsorily:
Entrances and exits
A single doorknob might lead to a widespread disease within the workplace. New investigations have shown that 40 to 60% of personnel and visitors at the facility collected a virus placed on the door knife within two to four hours. 
Besides often disinfecting door pins, light switches, and other touch-up surfaces within the workplace, ensure that a hand sanitizing station is also provided in the vicinity to minimize the infection spread.
Cafeterias
If you eat food with your germ-afflicted hands, you can digest the bacteria and get infected with numerous ailments: Café, food courts, and break rooms. According to the NSF International study, one of the germinating hotspots in an office is the breakroom and kitchen.
While a hand sanitizer is a substitute for anyone preparing food, specific pathogens can be eliminated.
Meeting Rooms
Meeting rooms are often packed with staff, clients, and visitors who exchange handshakes to exchange germs. Guests and workers may keep their hands safe from contamination with an easily accessible hand sanitizer close to the door or table.
Staff desks
The primary germ transfer locations are desks, phones, computer keys, and mice because they are so much reached by individuals. With employees spending much of their day eating, drinking, even taxing and sneezing at their desks, desks become a 'miracle of viruses,' which may live on a surface for up to three days.
It is necessary to place a hand sanitizer there.
Conclusion
Hand sanitizers are undoubtedly one of the essential components here for us during this pandemic. In this post, we have tried to explain the usage and different facts about hand sanitizers. We recommend you to use Scott's hand sanitizer as it is one of the top-notch products in the market.