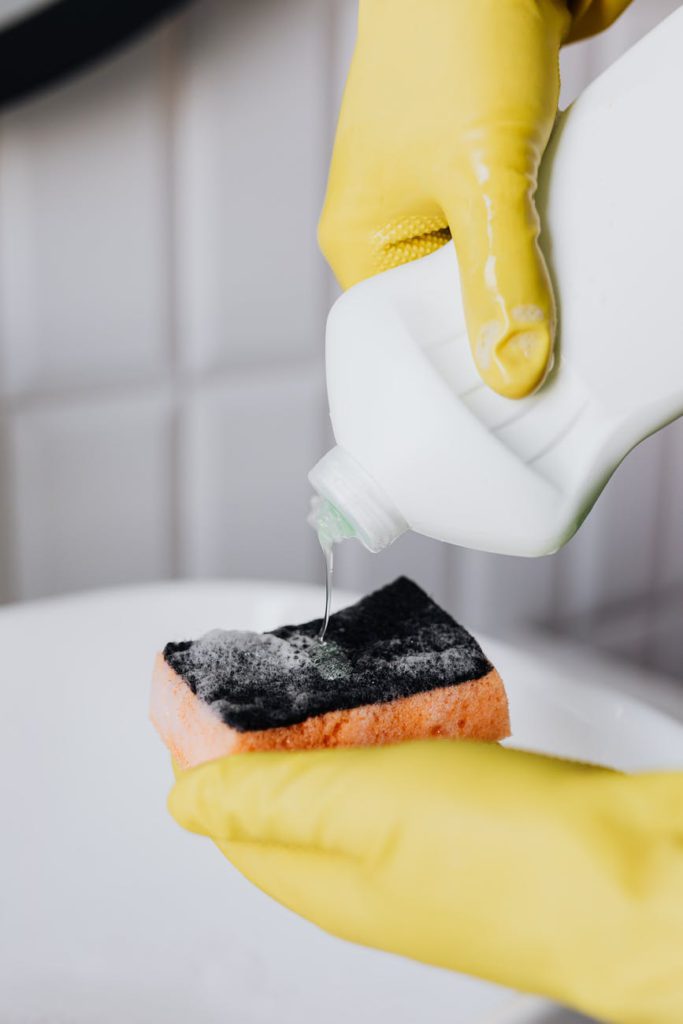 Nobody in this whole wide world wants their food on a stinky or filthy plate. It surely will affect your appetite. And the solution to this horrible situation is a dishwasher detergent.
However, choosing the right detergent for your dishwasher can be really tricky as there are so many options to choose from in the market.
And we are here today to help you so that you can get the best dishwasher detergent and learn what's necessary for you today.
So, without further delay, let's get you going-
What are the Types of Dishwasher Detergent?
Three is the number that you're looking for if you want to know how many types of dishwasher detergent is available in the market.
Tablet, powder, and liquid or gel. These are the types of dishwasher detergent you'll find in the market.
So, let's have a look at each one of them-
Tablet
Tablets are the most efficient small blocks which are a concentrated powder that does that cleaning. The powder is basically a dishwashing powder.
Usually, it comes with a rinse aid which makes the tablet more effective. You just put the tablet in the dispenser or you can simply place it in the dishwasher.
As it's a tablet, unlike the gel or liquid it's less likely to spill. Also, you have a variety of options for fragrance.
Powder
The powder is the cheapest option for you. You can pour or scoop it in your dishwasher easily. However, if you have a tough stain to take care of, you can consider powder as an option.
As the powder lasts longer, it might be a great option for your home. Also, if your washing needs aren't huge, you can consider it.
You can use the amount according to your dishes and that might save a lot of powder.
Liquid or Gel
Do you know the dishwashing liquids that you use for washing dishes by hand? Well, these are identical to those. You can pour it in the dispenser except for a great clean.
When it comes to price, it's in the middle of the powder and tablet. As it's a gel and for its slow-pouring feature, it's easier to control rather than powder.
Moreover, it works like magic because it doesn't need time to dissolve. And you can also find this in tablet form but that's more expensive.
However, if you want a quality dishwasher liquid detergent, click here.
What to Look for in a Dishwasher Detergent?
There are so many variations of the dishwasher detergent in the market. The number of companies and products can blow your mind away.
However, in this puzzling situation, you need someone to guide you to the right detergent for your dishwasher.
So, before you go on and grab a random dishwasher detergent, let's look at the factors that you need to keep in mind-
Cleaning Performance
You see, the tablets are pricier than any other dishwasher detergent in the market.
However, when it comes to cleaning performance, they often come with a rinse agent that does magic. They take care of all the dirt and debris thoroughly as it looks totally new.
The powder can be an option for you as tablets and powder both have bleach and enzymes. That means stains are not even an issue for you.
Anyhow, the gel doesn't have that much ability to remove the stains. It can kill bacterias but it's really hard to get rid of the stains.
User Friendly
Tablet versions are easy to go with. They are easier to use as they come with a pre-measured package. On the other hand, gels and powders need to be measured each time you wash the dishes.
However, people often consider gels as more user friendly as it's easier to control.
Flexibility
You see, if you think about the tablet detergent, it's less flexible. Because they are pre-measured and you can only find them in a certain size.
If you want to put in a different amount of product every time, you should go for either powder or gel.
Non-Toxic
There are several products in the market that contains phosphates. Even though this chemical material has been used in dishwashing detergents, they are quite harmful to the environment.
This non-environment friendly element can cause an algae bloom. It is for the best if you avoid the products that contain this element.
You need to read all the labels carefully and make sure that you get the non-toxic one for yourself.
There are some potentially toxic chemical elements like phthalates, triclosan, parabens and you might want to stay away from these
Compatibility
There are dishwashers out there which are not suitable for a certain kind of product. Most of them are not suitable for gels.
So, before you grab a dishwasher detergent, read the owner's manual carefully.
Environmental Friendliness
You see, products come with packaging that might not be healthy for the environment like the tablet packaging.
However, most of the companies are trying their best to bring in a solution with the packaging. It's even possible to do organic packaging in this modern era. To know about organic packaging, click here.
So, watch out for any kind of organic or environmentally friendly solution.
Ethical Factors
There are companies and brands out there who test these products on animals. So, if you want to choose the right product ethically, avoid those which have by-products of animal or palm oil.
Conclusion
That's all that we had on dishwasher detergent for you today. Hopefully, this article was helpful enough for you to choose the detergent and learn all you needed today. If you want better results out of the detergents, you need to keep them fresh and dry.
Don't let them contact water. Water will take away or drain its cleaning power. So, it's high time you go grab the product that suits your cleaning from the market. Also, share your experience with us. Let us know if the right one reached your expectations or not.
We also have a buying guide for laundry detergent for you. Check it out.