Automated chemical systems have become more and more convenient because it operates without additional control. An automated chemical system can be a life-changer for maintaining the quality of the pool.
If you want to take a hot spa after a long drive from work, you better be taking controlling on your pool systems. Here's why it's the safest option for you.
Pool Cleaning Technology:
You'd want your pool to have the precise PH balance. Out of everything in the world, you don't want to delve yourself in a too high to low chlorine amount for your pool. PH balance of water is extremely crucial as it affects the different elements of the quality of the water body.
If the PH ranges too high, it accumulates all the sanitizing ability. Losing the accumulation control can proceed towards harbouring bacteria and viruses. An automated chemical system would make sure you've a clean and safe pool to enjoy any time of the day.
Chemical automation gives you full authority: Monitoring notable fluctuations to determining proper levels to inject chemicals, an automated system gives you full power to control a little too big element of the process.
You can set your pool environment friendly as you like. It can be a super eco-friendly pool with your control over it—the set up of the entire system to adjust the temperature and set it up for cleaning automatically.
The programming of the automated system also allows you to turn on jets and lights between the features of your pool.
The functions can be integrated on mobile devices. The operation is pretty simple. You can turn on the bubble spa or steam spa from a single remote and hop onto the pool having everything ready for you.
It's Flexible:
The maintenance schedule for an automated pool is pretty suitable for anyone who's working remotely or a physical workspaces. The chemicals can be taken out and infused in your pool any time of the day you don't have to worry a penny.
If you've ever left your home realizing you left the pool light on after driving 30 miles, you don't have to cram your head. Just one click from your phone can have it turn off within a second. Similarly, you can have control over your pool pump and other notable settings. This gives out the flexibility you need in this advanced technological world.
It saves you money:
It's time to look out on your energy bill. Most of the electricity bill that we struggle so much with comes along the line of an unsuitable manual program of different energy settings. Automation can save you tons of money. The fact about installing your services with an automated system is that you don't need to hire workers for maintaining whatever you want to maintain.
There's less chance of human error, and more efficiency to completing the task. When you're confronting an error, you'd need more money to fix the error rather than spend that amount to doable stuff.
Ensuring a smooth service and zero wastage, automation systems provide that your money well spent. Automated precision control magnificently reduce chemical costs. If that's not making your life easy, I don't know what will!
What are the things to consider before you automate your pool?
Before you proceed to automate your pool, some factors must be kept in mind. This goes to say that although an automated chemical system provides plenty of advantage, if you're not aware of the few simple steps before setting it up, you're not doing it right.
Some considerations that you should keep in mind are: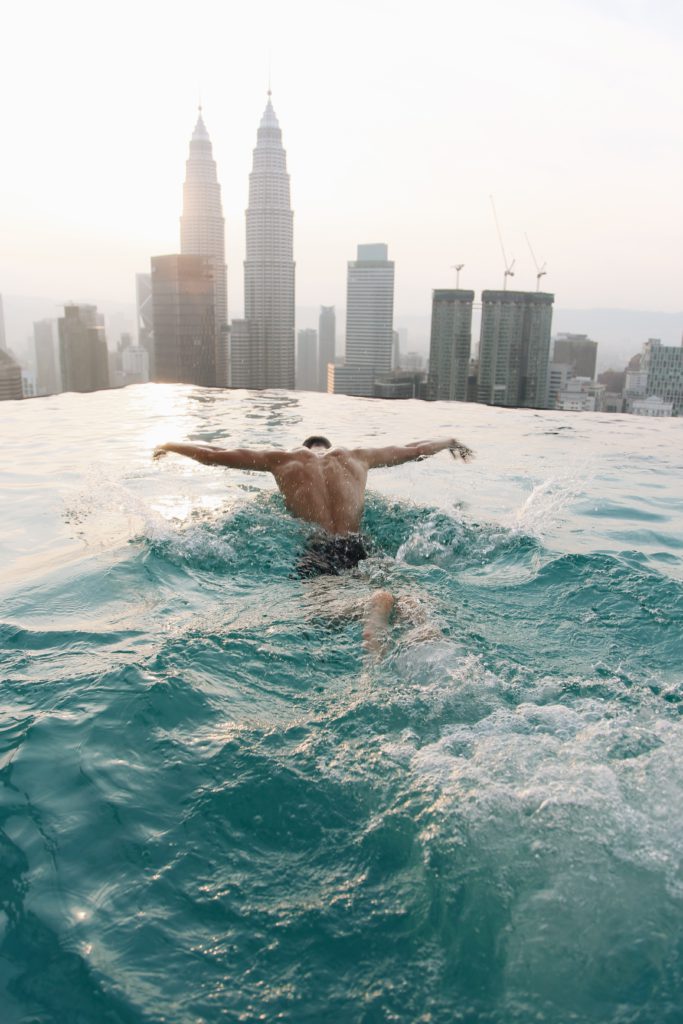 Automated Chemical System Features:
What do you want to equip your system with? While there are so many features that you can go for, you'd still have to choose from the basic options of automation.
Automation system generally works for the following features
a) water PH control
b)flow of water
c)sanitation
d)temperature control
keeping note of all the essential equipment, see what you need to get hold of. If you're facing sanitary issues, go for an automated sanitation. Likewise, you can customize the entire pool with what suits your environment the best. The prime factor here is figuring out which of the features is a requirement for you.
Usage:
Usage is vital when you're building your pool . The pool can be for your backyard, a hospital pool, a hotel one or even a public spa. The chemical requirements highly depend upon the usage of the pool. The expected water temperature affects the quality. The usage of the compound is hence something that you need to keep in mind.
Installation:
The amount of chemical use depends on whether you want to install your pool indoor or outdoor.
If you're installing a pool outside, you have to use cyanuric acid to stabilize the pool. The sun works as an agent to destabilize the water quality. Hence it is essential to protect the quality from sanitizer shocks.
One way to run an automation system proficiently indoors, you can use specialized reagent systems.
Conclusion:
For every little detail that you consider for setting up your automated pool, you should always check the probable price and hikes that range within the best of all qualities. The automated system can be a win-win for you if only your supplier is a knowledgeable expert focusing on the requirements of your setup.